The Heritage Society
Estate gifts are among the highest tributes that alumni and friends can pay to organizations. The University of New England is grateful to be included in the personal legacies of its committed supporters.
The Heritage Society was created to honor and celebrate alumni and friends of the University (Westbrook Junior College, Westbrook College, St. Francis College, and UNECOM) whose documented estate gifts support UNE's mission - to prepare students to thrive in a rapidly-changing world and, in so doing, to improve the health of people, communities, and our planet.
If you are interested in establishing a planned gift and being recognized as a member of The Heritage Society, please contact us today. You can also fill out the secure Heritage Society Confidential Membership Information Form below. Thank you!
Mark LaFrance
Planned Giving Officer
Telephone: (207) 221-4379
mlafrance2@une.edu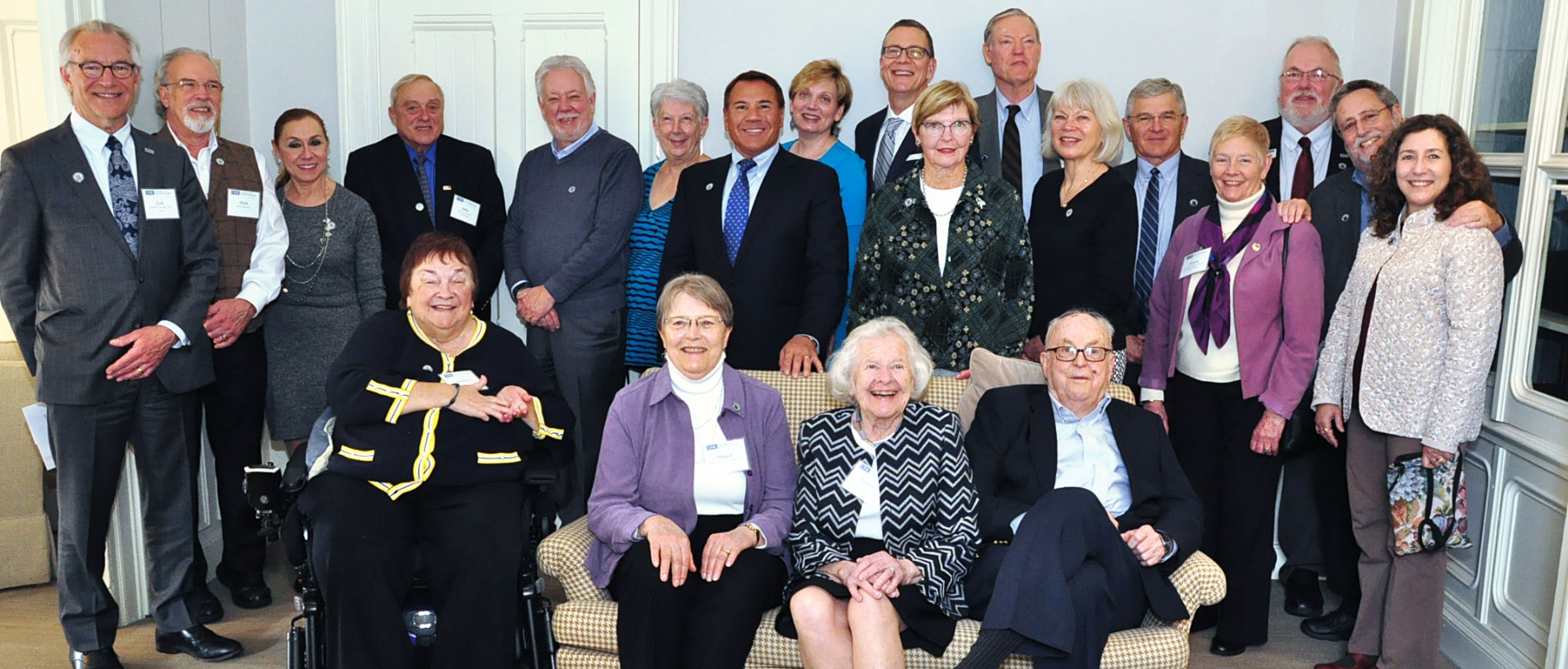 Heritage Society Luncheon
On Wednesday, April 24, 2019, President James Herbert honored a number of enthusiastic Heritage Society members and guests at an inaugural recognition luncheon at the Cumberland Club in Portland. Special guest, Tom Meuser, PhD, founding director of the new UNE Center for Excellence in Aging & Health, led a lively discussion on aging and shared an overview of current and planned research projects. President Herbert also presented attendees with a specially designed lapel pin for members of the Heritage Society.

Regrettably, the 2020 Luncheon had to be canceled due to the coronavirus pandemic.
---
Over 200 alumni and friends have remembered the University and created a personal legacy by establishing an estate or planned gift. Currently, 70+ living individuals and couples are members of the UNE Heritage Society, with five new, documented members joining in 2019/2020. Members receive invitations and special recognition at select UNE events, members-only University updates from President Herbert, and a distinctive Heritage Society lapel pin.
Anonymous (4)
David L. Anderson, Ph.D. and Melinda Anderson
David and Dorie Barber Family Fund
Bruce P. Bates, DO and Charlotte K. Bates
Thomas Benenti SFC '69, DMD
Nancy Piper Bodebender WJC '54
Peter Boehmer
Carolyn and Norman E. Brackett
Ladema and Brian G. Brock, DO
Pamela and Boyd R. Buser, DO P '05
Judith Freedman Caplan WJC '69**
Robert L. Card, DDS**
Donna Lee Litchfield Cheney WJC '62
Elizabeth Babbott Conant, Ph.D.*
Deborah and Brian K. Dallaire, PharmD
David W. Dickison, DO '82, MPH
Elizabeth Oshry Dietz WJC '65
James Richardson Dowling
John D. Downing
Ronald Drouin
Thelma W. Dunning
Elizabeth Penfield Ellsworth WJC '50*
Marie Byington Emery WC '78
Barbara and Charles W. Ford, Ph.D., P '97
Donna Rowe Fowlie WJC '63
Linda L. Fucci WJC '66
Vincent E. Furey, Jr., HON '05
Marguerite Hoyt Gatchell WJC '65 and
Capt. William G. Gatchell, HA '05
Andrew J. Golub and Betty Golub
Marjorie Gaskell Goodwin WJC '49
Robert J. Graff SFC '69**
Marilyn R. Gugliucci, MA, Ph.D.
Rosemary Guptill
Myron Hager, HA '81*
Joshua W. Hamilton, Ph.D. and Melissa Hamilton
Charles P. Harriman
Jean Farnham Henshaw WJC '55
Maurice C. Hothem, DO
Carol F. Kessler, Ph.D.
Marilyn A. Lalumiere WJC '62
Patricia Hayden Langlin WJC '44
Richard J. LaRue, DPE, HA '18
Kathryne A. Leonard, DO '86 and Robert T. Leonard, Jr., DO '86
Barbara Dumican Linnell WJC '48*
Joni Hardwick Maliszewski WC '76
Elizabeth Donahue McKinnon WJC '48
Marilynn L. Morel SFC '78 and Michael A. Morel
Lael Morgan**
Eleanor Manning Morrell WJC '49 and Richard A. Morrell, HA '96
Joanne Murphy**
Mark Nahorney
David A. Norfleet, DO
James C. Norwood, Jr. SFC '66 and Joan Norwood
Kendell L. Oetter, DO '90
James L. Pierce SFC '66
Wayne J. Reynolds, DO '89
John F. Rinaldi SFC '70
Danielle N. Ripich, Ph.D., HA '16
Gary M. Ross, DO
Alice M. Savage WJC '55, MD, Ph.D.
Chester C. Suske, Jr., DO
Widgery Thomas, Jr., HA '88*
John P. Tumiel, HA '14
VFH Living Trust
David A. Weed, DO '82
Jean T. Wilkinson*
Constance R. Strout-Wood WJC '54* and Thomas R. Wood*
Linda Aharonian Zavalick WJC '66
*Deceased (2018 to 2020) – We mourn the loss of these special individuals and thank them for remembering UNE in their estate plans.
**New member(s) – 2019/2020
Heritage Society Confidential Membership Information Form
I recognize the powerful impact a planned gift has on the lives of UNE students. My gift will enable future generations to receive an education that can transform lives and the world. I am pleased to inform you that I have provided a gift after my lifetime to benefit University of New England.
Thank You
Thank you for your interest in supporting University of New England.
One of our gift planning representatives will contact you to discuss your charitable plans.
Printer friendly version of The Heritage Society Confidential Membership Information Form